Roll over image to zoom in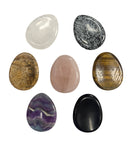 Description
Polished Worry Stones are offered wholesale in bulk.  These are Worry Stones that have been polished and have a shallow indention intended to be used as a fidget stone and are ready to sell!  These fit in the palm of your hand. Choose from the materials below. The size is 1-2. 
Learn about the calming world of wholesale worry stones, where calm and stress reduction are combined in a compact but effective package. Worry stones from our exclusive collection are carefully chosen, and each one is made to fit perfectly in the palm of your hand. These worry stones are ideal for businesses, spas, and those looking for inner peace since they provide a quick and easy approach to reduce stress and encourage relaxation.

Our wholesale worry stones are made from different gemstones known for their calming and grounding characteristics. At our business, quality is our top focus. You can massage these polished, smooth stones with your thumb to feel their calming energies, making them useful tactile instruments for stress reduction and meditation. Discover a moment of quiet in the middle of a busy day as you connect with each worry stone's inherent vibrations and embrace the warmth and tranquility it contains.

Increase the quality of your collection of worry stones. These modest yet powerful gems offer consolation, enabling people to deal with obstacles in life more successfully. Our curated selection will convey peace and good vibes to whoever holds them, whether you're looking to diversify your product line or make nice gifts for loved ones. Shop today to harness the power of worry stones wholesale, giving your consumers and clients a little peace and relief from stress.

Payment & Security
Your payment information is processed securely. We do not store credit card details nor have access to your credit card information.