Roll over image to zoom in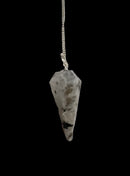 Description
White Rainbow Moonstone Pendulum Approx 1.25 Inch Diameter.  These are silver plated pendants.
 With our wholesale White Rainbow Moonstone Pendulums, you may embrace the ethereal glow of a crystal divination instrument. These pendulums are ideal for metaphysical shops, crystal aficionados, and people looking for spiritual direction and intuition. With its ethereal iridescence and milky white hue, White Rainbow Moonstone is a stunning gemstone renowned for its affinity with lunar energy and the deepest levels of intuition. We offer premium White Rainbow Moonstone Pendulums as a dependable supplier to guarantee authenticity and real crystal energy.

Our wholesale White Rainbow Moonstone Pendulums are a captivating addition to any metaphysical collection since at our shop, quality is of the utmost importance. Pendulums made of white rainbow moonstone are well-liked instruments for dowsing, chakra balancing, and reaching higher states of awareness. They are thought to improve psychic powers, encourage emotional equilibrium, and encourage decision-making with clarity. As you tune into the ethereal vibrations of each pendulum and connect with the feeling of mystery it adds to your divination techniques, embrace their alluring beauty.

Take advantage of our wholesale White Rainbow Moonstone Pendulums to upgrade your metaphysical collection. These beautiful divination instruments encourage people to embrace the enchanted energy of White Rainbow Moonstone and act as a source of inspiration. Our carefully chosen selection will elicit a sense of spiritual connection and good vibes whether it is utilized for personal development, as a kind present, or as a well-liked retail item. Discover the fascination of White Rainbow Moonstone Pendulums by making your purchase right away. They will add a touch of heavenly direction and divination to your spiritual journey.

Payment & Security
Your payment information is processed securely. We do not store credit card details nor have access to your credit card information.