Roll over image to zoom in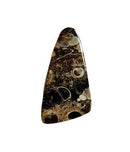 Description
Turritella Agate TURTIL Cabochons for sale.  These cabochons are great to wire wrap, set into jewelry or collect. 
Our Bulk Turritella Agate Square Cabochons display the captivating patterns of preserved sea animals and snails. Each cabochon is an absolute masterpiece because this work of nature tells a tale spanning millions of years. These cabochons are a versatile choice for creating magnificent necklaces, earrings, and statement rings that emanate a sense of timelessness and timeless elegance thanks to their square shape, which adds a modern touch.

Wholesale Turritella Agate Square Cabochons' enigmatic charm will elevate your jewelry collection. By combining these alluring stones into your designs, you can unleash your creativity while highlighting the exquisiteness of Earth's past in each one. In the captivating embrace of Turritella Agate, design jewelry that serves as a monument to the exquisite beauties of nature and the limitless potential of human ingenuity.

Payment & Security
Your payment information is processed securely. We do not store credit card details nor have access to your credit card information.