Roll over image to zoom in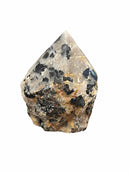 Description
Tourmaline and Quartz Polished Points with a Flat Base from Brazil for sale offered wholesale in bulk. These make great specimens! 1-3 pieces per pound
 Our wholesale Tourmaline and Quartz Polished Points with Flat Base, an ideal complement to crystal collections, retail products, and healing practices, allow you to tap into the harmonious energy of crystal fusion. Tourmaline, which is prized for its shielding qualities, and Quartz, which is renowned for its amplifying qualities, combine to form a potent force that harmonizes and aligns energies. We offer top-notch Tourmaline and Quartz Polished Points as a reliable supplier to ensure authenticity and true crystal energy.

Our wholesale Tourmaline and Quartz Polished Points offer a mesmerizing fusion of energies since quality is very important to us. While quartz enhances and magnifies the effects of other crystals, tourmaline is thought to ward off negativity and encourage grounding. As you connect with the special vibrations of this crystal fusion and embrace the alluring beauty of each polished point, you will bring harmony and optimism to your surrounds.

With our wholesale Tourmaline and Quartz Polished Points, you may upgrade your crystal collection. These fascinating ideas serve as a source of motivation, enabling people to accept the peaceful energy of this crystal combination. Our carefully chosen collection will emit an air of harmony and good vibes whether it is used for crystal healing, meditation, or as decorative items. The allure of Tourmaline and Quartz, which provide a touch of protection and amplification to your crystal collection, is available for purchase right now.

Payment & Security
Your payment information is processed securely. We do not store credit card details nor have access to your credit card information.