Roll over image to zoom in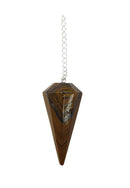 Description
Tiger Iron Pendulum Approx 1.25 Inch Diameter for sale wholesale in bulk. These are silver plated pendants.
 Our Wholesale Tiger Iron Pendulums exhibit the captivating fusion of earthy tones and dazzling iridescence, offering a visual treat that appeals to both crystal connoisseurs and spiritual searchers. Each pendulum is meticulously chosen and expertly crafted, guaranteeing superb balance and precision for precise readings. By including Tiger Iron Pendulums in your wholesale selection, you give your clients the chance to experience the calming, grounding energies of these extraordinary stones.

With Tiger Iron Pendulums' empowering vitality, elevate your wholesale collection. Accept the strength, focus, and centering that these pendulums provide to the lives of your customers. As a wholesaler, you may reach a wide audience with the gift of divination and self-discovery while enhancing their spiritual journey with Tiger Iron Pendulums' alluring aura. Shop our wholesale selection right away to introduce this special gemstone mix to your audience.

Payment & Security
Your payment information is processed securely. We do not store credit card details nor have access to your credit card information.