Roll over image to zoom in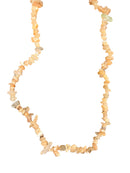 Description
Sunstone Necklaces 30-32 Inches for sale wholesale in bulk. These are nice gemstone chip necklaces. These are offered in bulk/wholesale.
Our wholesale sunstone chip necklaces are made to easily go from a casual setting to an upscale one. Each necklace has sunstone chips that have been meticulously polished, combining natural beauty and sophisticated elegance in a pleasing way. The chips are connected in a mesmerizing cascading design that gives every ensemble a dash of pizzazz. These necklaces may be adjusted in length to fit different necklines and tastes, making them a desirable choice for a wide range of customers.

Give your customers a bit of nature's brightness paired with wearable elegance by adding our Wholesale Sunstone Chip Necklaces to your jewelry selection. These necklaces are ideal for people looking for items that not only complement their fashion sense but also give off the energy and positivity of the sun.
Payment & Security
Your payment information is processed securely. We do not store credit card details nor have access to your credit card information.