Roll over image to zoom in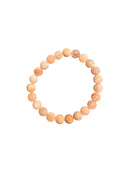 Description
Sunstone 8mm Round Bracelets.  These are elastic crystal gemstone stretch bracelets offer wholesale in bulk.
Enjoy the inviting warmth of wholesale Sunstone bracelets, where the sun's alluring energy has been beautifully captured in jewelry. Handcrafted bracelets, each with genuine Sunstone gemstones, are part of our exclusive collection. These bracelets provide an alluring way to connect with the uplifting energy of Sunstone and are ideal for jewelry businesses, gift shops, and people looking for vitality and positivity.

Quality is extremely important to us, thus our wholesale Sunstone bracelets are expertly made with real gemstones. Sunstone is known for its glistening beauty that reflects the effervescent sun's radiance and is regarded as a symbol of happiness, vitality, and plenty. As you connect with each bracelet's brilliant vibrations and feel its empowering energy, embrace the alluring beauty that resides there.

Sunstone bracelets at wholesale prices can enhance your jewelry collection. Wearers are inspired by these alluring pieces, which help them embrace their inner brilliance and a positive view on life. Whether used as thoughtful gifts or for personal adornment, our handcrafted collection will exude vigor and assurance. Shop right away and enjoy the bright allure of Sunstone, which adds a dash of solar radiance to your jewelry choices.

Payment & Security
Your payment information is processed securely. We do not store credit card details nor have access to your credit card information.