Roll over image to zoom in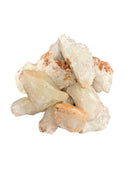 Description
Sulfur Quartz Rough Specimens from Brazil! These are great hand specimens. The size range is  100-300 gram size or Palm size 1/2 fist to fist size. Order a 2.2 pound lot, 11 pounds or a 33 pound lot.
Enjoy the striking beauty of wholesale rough pieces of sulfur quartz, which are ideal for crystal collectors, retailers, and crystal aficionados looking for a distinctive and rare crystal. Due to the presence of sulfur impurities inside the quartz matrix, sulfur quartz, sometimes referred to as sulfur inclusions in quartz, exhibits vivid yellow or gold hues. We obtain premium Sulfur Quartz raw specimens as a dependable provider to guarantee authenticity and true crystal energy.

Our wholesale Sulfur Quartz rough specimens are a fascinating addition to any crystal collection because quality is very important to us. For its unusual look, sulfur quartz is treasured, and its medicinal powers are thought to encourage clarity, cleansing, and the release of bad energies. As you connect with each piece's colorful vibrations and the sensation of transformation it delivers, embrace the alluring beauty it possesses.

Take advantage of our Sulfur Quartz rough specimens in bulk to upgrade your crystal collection. These alluring crystals act as a source of motivation, encouraging people to embrace the special spirit of this uncommon discovery. Our carefully chosen collection will elicit an air of intrigue and enlightenment whether used for crystal healing, spiritual rituals, or as ornamental items. Discover the fascination of Sulfur Quartz, which adds a touch of exceptional beauty and transforming energy to your crystal collection, by shopping now.

Payment & Security
Your payment information is processed securely. We do not store credit card details nor have access to your credit card information.