Roll over image to zoom in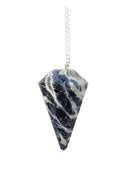 Description
Sodalite Pendulum Approx 1.25 Inch Diameter for sale wholesale in bulk. These are silver plated pendants.
Sodalite pendulums are potent tools used in divination rituals that aid searchers in connecting with their higher selves and drawing upon the wisdom of all that is. Users can find solutions to their most pressing issues and concerns thanks to the transparent communication that these pendulums enable with the subconscious mind. For precise and dependable readings, each Sodalite Pendulum in our wholesale selection has been carefully designed and balanced.

Increase your wholesale inventory with Sodalite Pendulums' commanding presence. Encourage your clients to set off on a voyage of introspection and intuitive exploration. By giving your clients access to these great divination tools, you as a wholesale retailer can improve their quality of life. Shop our wholesale selection right away and give your customers access to Sodalite Pendulums' magical powers for improved wisdom and insight.

Payment & Security
Your payment information is processed securely. We do not store credit card details nor have access to your credit card information.