Roll over image to zoom in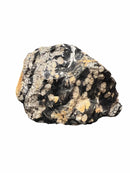 Description
Snowflake Obsidian Rough Specimens for sale wholesale in bulk from the USA! These are great hand specimens. The size range is approximately 1.2" - 1.7" inches or Palm Size. Order 2 pounds, 11 pounds or a 33-pound lot. 
Discover the fascinating world of wholesale Snowflake Obsidian rough specimens, where the wintertime beauty of nature is displayed in eye-catching black and white patterns. Each rough stone in our exclusive collection, hand-selected for its exceptional beauty of Snowflake Obsidian, is a one-of-a-kind specimen. These rough examples are ideal for lapidary artists, collectors, and retailers because they provide a window into the fascinating wonders of nature.

Quality is of the utmost importance to us, so we only purchase wholesale Snowflake Obsidian rough specimens from reliable vendors. This guarantees that the stones are real and true. Due to its inclusions that resemble snowflakes, Snowflake Obsidian is appropriately titled. It features a beautiful combination of black obsidian and white mineral crystals. As you discover each piece's potential to make a gorgeous cabochon, carving, or display specimen, embrace the entrancing beauty that resides there.

Increase the quality of your masterpieces with Snowflake Obsidian rough specimens in bulk. These alluring stones act as a source of creativity, enabling lapidary artists and designers to create one-of-a-kind items that highlight nature's winter-like splendor. Our carefully chosen selection will inspire your creative process, whether you're looking to add to your collection or make statement jewelry. Shop today and succumb to the seduction of Snowflake Obsidian, incorporating it into your designs to lend them its enduring beauty.

Payment & Security
Your payment information is processed securely. We do not store credit card details nor have access to your credit card information.