Roll over image to zoom in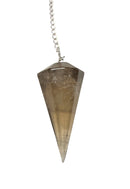 Description
Smoky Quartz Pendulum Approx 1.25 Inch Diameter.  These are silver plated pendants.
 With our bulk Smoky Quartz Pendulums, a useful instrument for dowsing, divination, and energy work, you can gain a sense of stability and clarity. Smoky Quartz is a powerful gemstone prized for its capacity to banish negativity and foster a sense of stability. It is distinguished by its rich brown to black tones. We are a dependable source for Smoky Quartz Pendulums, which are in high demand from crystal shops, holistic practitioners, and spiritual searchers because they exhibit the natural beauty and transforming qualities of this crystal.

Our wholesale Smoky Quartz Pendulums are expertly designed to offer a dependable tool for spiritual searchers and practitioners alike because quality and intention are very important to us at our shop. Genuine Smoky Quartz gemstones, chosen for their special energy and brilliance, are featured in each pendulum. Smoky quartz is a wonderful tool for spiritual discovery since it is thought to improve mental clarity, relieve emotional barriers, and ground scattered energies. As you use each pendulum's wisdom for dowsing, chakra balancing, and divination activities, embrace the transforming qualities of each one.

Take advantage of our wholesale Smoky Quartz Pendulums to upgrade your crystal collection. These magnificent divination tools are a source of inspiration that enable users to tap into their inner wisdom and higher direction. Our hand-selected selection of pendulums will enhance your clients' spiritual journeys whether they are sold as a retail item, utilized in energy healing sessions, or given as gifts due to their spiritual value. Shop now to learn more about the fascination of Smoky Quartz Pendulums and to embrace the transforming power of this alluring gemstone for stability and clarity in your divination activities.

Payment & Security
Your payment information is processed securely. We do not store credit card details nor have access to your credit card information.