Roll over image to zoom in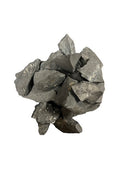 Description
Shungite Rough Specimens for sale wholesale in bulk from Russia! These are great hand specimens. The size range is approximately 1.2" - 1.7" inches or Palm Size. Order 2 pounds, 11 pounds or a 33-pound lot. 
With our wholesale Shungite Rough Specimens, a captivating addition to your crystal collection, you may embrace the shungite mineral's historic therapeutic properties. Shungite is a rare gemstone renowned for its powerful healing and protective abilities. It has a midnight black color and a distinctive carbon structure. We are a dependable source of premium Shungite Rough Specimens that exhibit the inherent beauty and healing properties of this unique stone, making them a popular option for crystal dealers, energy healers, and spiritual seekers.

Our wholesale Shungite Rough Specimens are selected with care to deliver an authentic and transformational experience because quality is our top focus at our shop. Each specimen displays the shungite's natural beauty, exhibiting its distinctive pyrite inclusions and deep black color. Shungite is thought to promote physical healing, foster spiritual development, and provide protection from electromagnetic radiation. As you connect with the ancient energies and feel the purity it provides to your surroundings, embrace the anchoring qualities of each rough piece.

Take advantage of our Shungite Rough Specimens in bulk to upgrade your crystal collection. These amazing stones provide people the inspiration they need to use shungite's healing and defensive abilities. Our carefully chosen collection of rough specimens will envelop you in an aura of power and crystal magic, whether it be displayed as a natural wonder, sold as a retail item, or incorporated in crystal healing kits. Shop today and fall in love with Shungite Rough Specimens, embracing the knowledge of the past and the transforming power of this extraordinary gemstone.

Payment & Security
Your payment information is processed securely. We do not store credit card details nor have access to your credit card information.