Roll over image to zoom in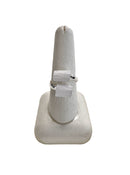 Description
Selenite Silver Plated Adjustable Rings for sale wholesale in bulk. These are silver plated rings.
More than just pieces of jewelry, our wholesale Selenite Silver Plated Adjustable Rings are manifestations of one's individual style and sense of inner serenity. These rings elegantly match a variety of ensembles while radiating the calming energy of selenite, whether worn as an everyday accessory or for special occasions. You provide your consumers a one-of-a-kind accessory that not only complements their style but also promotes their wellbeing by including these rings in your inventory.

Selenite is thought to promote mental clarity, stress reduction, and a sensation of tranquility. You can give your consumers the chance to take the calming spirit of selenite with them wherever they go by offering them our Selenite Silver Plated Adjustable Rings. By include these rings in your wholesale, you may embrace the grace and tranquility of selenite.
Payment & Security
Your payment information is processed securely. We do not store credit card details nor have access to your credit card information.