Roll over image to zoom in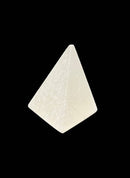 Description
Selenite Pyramid offered in bulk or wholesale. These have been shaped into a pyramid shape.  The sizes are 1.5 - 2.5 inches tall and 3 - 4.5 inches tall.  These are matte or rough finished and some will be off at a slight angle.
With our wholesale Selenite Pyramids, ideal for crystal enthusiasts, retailers, and healers, you may experience the radiance of crystal healing. Gypsum crystal selenite is well known for its ethereal radiance and distinctive qualities that support discernment, serenity, and spiritual connection. We provide premium Selenite Pyramids as a dependable supplier to guarantee authenticity and true crystal energy.
Our wholesale Selenite Pyramids are a stunning addition to any crystal collection since at our shop, quality is essential. Selenite is thought to have strong healing capabilities that are known to clear and purify the aura, improve mental clarity, and foster a sense of harmony and calm. As you connect with the peaceful vibes and sense of balance each pyramid gives to your area, embrace its alluring beauty.
Increase the quality of your crystal collection with our Selenite Pyramids in bulk. These fascinating pyramids provide inspiration, encouraging people to accept the therapeutic benefits of selenite. Our carefully chosen collection will evoke a sense of calm and spiritual upliftment whether it is used for meditation, energy purification, or as ornamental items. Selenite adds a touch of brilliance and healing energy to your crystal collection. Shop today and learn more about its attraction.
Payment & Security
Your payment information is processed securely. We do not store credit card details nor have access to your credit card information.