Roll over image to zoom in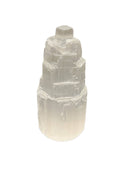 Description
Selenite Crystal Rough Towers offered in bulk or wholesale. These have been shaped into a Tower.  
Discover the dazzling brilliance of Selenite in wholesale Selenite crystal rough towers, where it commands attention. Our coveted collection includes hand-selected rough towers, each highlighting the Selenite's inherent beauty and ethereal glow. These towers provide a captivating method to bring spiritual clarity and peace into any environment, making them ideal for crystal aficionados, retailers, and spiritual seekers.

Quality is very important to us, so we only buy wholesale Selenite crystal rough towers from reliable vendors that can guarantee the stones are real and legitimate. Selenite, sometimes referred to as "the stone of clarity," has a distinctive translucent look and when illuminated, emits a relaxing brightness. As you connect with each tower's pure vibrations and the calm it imparts, embrace the magical beauty that resides there.

Wholesale Selenite crystal rough towers will enhance your crystal collection. These engaging works inspire people, giving them the tools they need to build a calm, spiritually uplifting environment. Our carefully chosen selection will add a sense of enlightenment and good vibes to any location, whether you choose to decorate it or give it to your customers. The ethereal beauty of Selenite will add a touch of crystal enlightenment to your crystal choices, so shop now and embrace it.

Payment & Security
Your payment information is processed securely. We do not store credit card details nor have access to your credit card information.