Roll over image to zoom in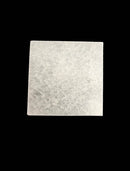 Description
Selenite Crystal Flat Squares offered in bulk or wholesale. These have been shaped into a flat square shape and have a matte finish.  These are great for charging crystals or by placing stones on the square to be energized by the selenite.  also known as a selenite charging plate.
 Our wholesale Selenite Crystal Flat Square Shapes are ideal for metaphysical shops, crystal fans, and people looking for a hint of ethereal charm. They embrace the elegance of gypsum beauty. With its pure white hue and translucent look, selenite is a potent gemstone renowned for its capacity to purify and elevate energies. We offer premium Selenite Crystal Flat Square Shapes as a dependable supplier to guarantee authenticity and real crystal energy.

Our wholesale Selenite Crystal Flat Square Shapes are a compelling addition to any metaphysical collection since quality is of the utmost importance to us. Each square form is meticulously carved and polished to highlight the Selenite's inherent beauty and soft radiance. These flat square forms are adaptable and can be utilized for a number of spiritual rituals, energy purification, and ornamentation. Selenite is thought to enhance mental clarity, banish negativity, and bring a peaceful atmosphere to any setting. Connect with the relaxing energies and sense of purity that each flat square form gives to your therapeutic activities as you embrace its alluring beauty.

With our flat square shapes of wholesale selenite crystal, you can enhance your metaphysical collection. These beautiful stones inspire people to enjoy the grace and tranquility of selenite by providing them with motivation. Our carefully chosen collection will emit a calming and uplifting aura whether it is used for crystal grids, meditation tools, or ornamental embellishments. The appeal of Selenite Crystal Flat Square Shapes, which add a touch of exquisite beauty and divination to your spiritual journey, may be found in our online store right now.

Payment & Security
Your payment information is processed securely. We do not store credit card details nor have access to your credit card information.