Roll over image to zoom in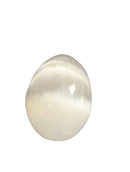 Description
Selenite Crystal Egg offered in bulk or wholesale. These have been shaped into an egg shape.  The size is approximately 2 to 3 inches tall.  
Explore the exquisite beauty of wholesale Selenite crystal eggs, which beautifully represent the transformational power of the mineral. Hand-selected and painstakingly made from real Selenite, each crystal egg in our limited-edition collection is presented here. These eggs offer a mesmerizing approach to entice spiritual enlightenment and peace into any location, making them ideal for crystal enthusiasts, retailers, and spiritual searchers.

Our shop places a premium on quality, therefore we only purchase our wholesale Selenite crystal eggs from reliable vendors that can guarantee that the crystals are real and of the highest caliber. Selenite is prized for its propensity to communicate with spiritual worlds, promoting inner tranquility and development. Connect with each egg's pure vibrations and the sensation of peace it exudes to embrace the ethereal beauty it contains.

Selenite crystal eggs in bulk will enhance your crystal collection. These alluring eggs act as a source of inspiration, encouraging people to establish a stronger bond with the divine and their inner selves. Our carefully chosen selection will add a sense of enlightenment and good vibes to any location, whether you choose to decorate it or give it to your customers. Shop right away and appreciate Selenite's exquisite beauty, which will add a touch of enlightenment to your crystal choices.

Payment & Security
Your payment information is processed securely. We do not store credit card details nor have access to your credit card information.