Roll over image to zoom in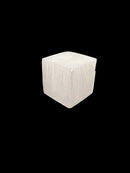 Description
Selenite Crystal Cube offered in bulk or wholesale. These have been shaped into a Cube shape.  The size is approximately 1.75 to 2.25 inch.  These have a rough matte finish.  
Our wholesale Selenite Crystal Cubes are ideal for crystal aficionados, retailers, and collectors looking for a pure and alluring gemstone. They allow you to embrace the elegance of crystal clarity. Selenite is a potent crystal that fosters mental clarity, purification, and spiritual connection. It is recognized for its translucent and bright look. We offer premium Selenite Crystal Cubes as a dependable supplier to guarantee authenticity and true crystal energy.
Our wholesale Selenite Crystal Cubes are a stunning addition to any crystal collection since at our shop, quality is essential. Selenite is prized for its medicinal qualities, which are thought to induce inner serenity, cleanse and purify the energy in the immediate area, and support meditation techniques. As you connect with the peaceful vibrations and sense of balance each cube gives to your environment, embrace its alluring beauty.
With our wholesale Selenite Crystal Cubes, you may upgrade your crystal collection. These captivating cubes inspire people to embrace the unadulterated spirit of selenite by providing them with motivation. Our carefully chosen collection will evoke a sense of refinement and spiritual clarity whether used for energy clearing, meditation, or as ornamental pieces. Selenite adds a touch of class and healing energy to your crystal collection. Shop now and explore its attraction.
Payment & Security
Your payment information is processed securely. We do not store credit card details nor have access to your credit card information.