Roll over image to zoom in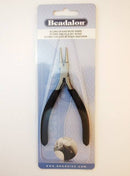 Description
A must for wire wrapping designers! Use Round Nose Pliers to form loops and curves. Use to round ends of Remembrance Memory Wire or to loop Artistic Wire for beading and wire wrapping designs
With our wholesale round nose wire wrap pliers, a necessary equipment for jewelry makers and aficionados, you can master the craft of creating gorgeous jewelry. With the help of these specialist pliers, you can easily and precisely make elaborate wire wrap designs with flawlessly rounded loops and curves. These pliers provide an alluring approach to advance your wire wrapping abilities and produce lovely, handcrafted jewelry, making them ideal for jewelry supply businesses, craft stores, and aspiring craftsmen.

At our shop, we place a high value on quality, thus we only use strong materials to make our wholesale round nose wire wrap pliers. As you experiment with various wire gauges and materials to create one-of-a-kind earrings, pendants, and wire-wrapped beads, you'll learn how versatile these pliers are. As you make graceful loops and breathtaking wire wrap designs, embrace the artistry contained inside each instrument.

With our wholesale round nose wire wrap pliers, you may upgrade your collection of jewelry-making tools. This crucial instrument acts as a source of inspiration, enabling people to infuse their jewelry designs with an air of sophistication and originality. Our pliers will exude an air of precision and artistry, whether used for DIY projects, workshops, or as a nice gift for other jewelry enthusiasts. Shop right away to learn the skill of wire wrapping, which will add a touch of class and finesse to your jewelry-making supplies.

Payment & Security
Your payment information is processed securely. We do not store credit card details nor have access to your credit card information.