Roll over image to zoom in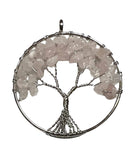 Description
Rose Quartz Tree of Life Pendant Approx 2 Inch Diameter for sale wholesale in bulk. These are silver plated pendants.
 The universal representation of the relationship between all living things and the complex system of existence is the Tree of Life. These pendants become more than just jewelry by fusing this meaningful symbol with the delicate beauty of rose quartz; they become a way to convey one's connection to the world and their own emotions. Giving your consumers access to Wholesale Rose Quartz Tree of Life Pendants enables you to offer them a piece of jewelry that combines spiritual depth with classic elegance.

Those looking to accessorize themselves with jewelry that has a deeper meaning will find wholesale Rose Quartz Tree of Life Pendants to be a superb addition to your collection. These pendants are ideal for clients seeking to celebrate love and unity since they make thoughtful gifts and personal treasures. Increase your product selection and encourage clients to accept the calming energy of rose quartz and the profound meaning of the Tree of Life.

Payment & Security
Your payment information is processed securely. We do not store credit card details nor have access to your credit card information.