Roll over image to zoom in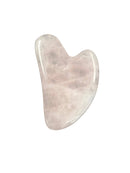 Description
These are Rose Quartz Guasha or Gua Sha Stones that have been shaped, smoothed and polished. They make great hand specimens and massage stones. These are approximately 2 x 3 inches in size.
 With our wholesale Rose Quartz Gua Sha, ideal for spa operators, crystal enthusiasts, and beauty and wellness merchants, embrace the love and radiance of the heart crystal. The stone of love and compassion, rose quartz is a potent gemstone with a delicate pink tint. As a dependable provider, we offer premium Rose Quartz Gua Sha tools that make use of this crystal's therapeutic benefits for facial massage and beauty procedures.

Our tools for Rose Quartz Gua Sha wholesale are created to provide a delightful and successful cosmetic experience because quality is of the utmost importance to us. Each Gua Sha is skillfully made to slide over the skin easily, encouraging lymphatic drainage and enhancing blood flow. Rose quartz is thought to promote self-love, open the heart chakra, and ease tension and stress. As you connect with the positive energies and sensation of relaxation each Gua Sha adds to your self-care routine, embrace its alluring beauty.

Utilize our wholesale Rose Quartz Gua Sha to expand your health and beauty company. These magical gadgets inspire people to embrace the adoration and nourishing qualities of Rose Quartz and act as a source of motivation for them. Our carefully chosen selection of Gua Sha tools will envelop you in a sense of self-care and crystal enchantment whether you sell them as a standalone item, include them in face treatment packages, or add them to your spa's existing crystal offerings. Shop now to experience the appeal of Rose Quartz Gua Sha and harness its adoring energy for a glowing, youthful face.

Payment & Security
Your payment information is processed securely. We do not store credit card details nor have access to your credit card information.