Roll over image to zoom in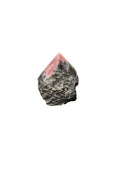 Description
Rhodonite Polished Points with a Flat Base for sale offered wholesale in bulk. These make great specimens! 1-3 pieces per pound
Unleash the beauty of healing crystals with our wholesale Rhodonite Polished Points with Flat Base, perfect for crystal enthusiasts, retailers, and healing practitioners. Rhodonite, with its striking pink hues and black veins, is a powerful crystal known for its emotional healing properties and promotion of compassion and love. As a trusted supplier, we provide high-quality Rhodonite Polished Points to ensure authenticity and genuine crystal energy.
Our wholesale Rhodonite Polished Points are a stunning addition to any crystal collection since at our shop, quality is essential. Rhodonite is thought to promote forgiveness and understanding, as well as emotional healing, stress reduction, and anxiety reduction. In addition to connecting with its soothing vibrations and the sense of emotional equilibrium it offers to your room, embrace the alluring beauty of each polished point.

With our wholesale Rhodonite Polished Points, your crystal collection will be elevated. These fascinating ideas act as a source of motivation, encouraging people to accept the calming power of rhodonite. Our carefully chosen collection will emit an atmosphere of love and compassion whether it is used for crystal healing, meditation, or as decorative items. Rhodonite, which adds a touch of emotional healing and beauty to your crystal collection, is alluring. Shop now and learn more.

Payment & Security
Your payment information is processed securely. We do not store credit card details nor have access to your credit card information.