Roll over image to zoom in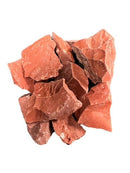 Description
Red Jasper Rough Specimens from Brazil! These are great hand specimens. The size range is Small, approximately 1.2" - 1.7" inches or Palm size 1/2 fist to fist size. Order a 2.2 pound lot, 11 pounds or a 33 pound lot.
Enjoy the raw beauty of wholesale Red Jasper specimens, which are ideal for collectors, retailers, and crystal aficionados looking for a vivacious and grounded stone. The alluring mineral known as red jasper is prized for its deep crimson or brick-red hue and earthy patterns. We obtain premium Red Jasper raw samples as a dependable provider to guarantee authenticity and real gemstone power.

Our company places a premium on quality, and our bulk Red Jasper rough specimens make an intriguing addition to any crystal collection. Red jasper is prized for its stabilizing and grounding qualities, and it is thought to encourage bravery, strength, and a connection to the forces of the soil. Connect with each piece's soothing vibrations and sense of stability as you embrace the alluring beauty it possesses.

With our Red Jasper rough specimens for wholesale, enhance your crystal collection. These alluring stones act as a source of inspiration, encouraging people to savor the earthy gem's calming aura. Our carefully chosen collection will emanate a sense of power and natural beauty whether it is utilized for crystal healing, meditation, or as decorative items. Shop now and experience Red Jasper's attraction, adding a dash of calming energy and vivacious color to your crystal collection.

Payment & Security
Your payment information is processed securely. We do not store credit card details nor have access to your credit card information.