Roll over image to zoom in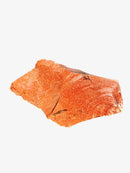 Description
Red Goldstone Rough Material for sale from China. This material is great to slab and polish or as a decorative outdoor rock. It is a beautiful man made glassy stone.
Create stunning sculptures by unleashing your artistic ideas and using Red Goldstone Rough Material Wholesale. Red goldstone's beauty may take on a wide variety of forms in the hands of talented craftspeople, from cabochons that capture the gem's fiery grace to faceted jewels that dance with light. The intense, brilliant red color mixed with the shimmering coppery inclusions is sure to catch the eye of anybody who sees your pendants, earrings, or statement items. You can start a creative adventure with this wholesale product that transforms unpolished red goldstone into gorgeous diamonds that reveal ambition, passion, and creativity.

Red Goldstone Rough Material Wholesale's bright charm will enhance your lapidary artistry. Each unfinished item is a blank canvas awaiting your individual touch.
Payment & Security
Your payment information is processed securely. We do not store credit card details nor have access to your credit card information.