Roll over image to zoom in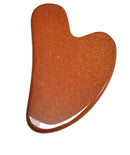 Description
These are Red Goldstone Guasha or Gua Sha Stones that have been shaped, smoothed and polished. They make great hand specimens and massage stones. These are approximately 2 x 3 inches in size.
 Enjoy the bright beauty of the Red Goldstone Gua Sha stones, where the luminous energy of this sparkling gem harmonies with the age-old practice of Gua Sha. Our exclusive collection includes handcrafted Gua Sha stones, each one carved from real Red Goldstone. These Gua Sha stones provide an alluring approach to improve your skincare and relaxation habits, making them ideal for wellness centers, retailers, and those seeking self-care and healing.

Quality is very important to us, and our wholesale Red Goldstone Genuine gemstones are used to painstakingly manufacture Gua Sha stones. Red Goldstone is known to promote vigor, energy, and improved circulation because of its sparkling appearance. It aids in the release of tension, the reduction of inflammation, and the promotion of a natural shine on the skin when employed in Gua Sha procedures. Enjoy the healing properties and sensation of rejuvenation that each stone offers as you embrace its alluring beauty.

Utilize wholesale Red Goldstone Gua Sha stones to upgrade your wellbeing collection. These brilliant tools act as a source of motivation, encouraging people to embrace self-care practices and improve their wellbeing. Our handcrafted selection will envelop you in a sense of calm and healing whether you use it for facials, massages, or as a lavish gift. Shop now and enjoy Red Goldstone's radiant allure, adding a dash of self-care and radiance to your health collection.

Payment & Security
Your payment information is processed securely. We do not store credit card details nor have access to your credit card information.