Roll over image to zoom in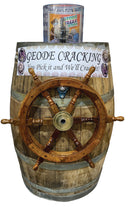 Description
Let's get Geode Cracking! We are excited to offer a new geode cracker designed to be used inside a store or shop that will contain the broken geode debris and allow the customer to turn the "Pirate Wheel" to break open their very own geode that was formed potentially millions of years ago!  It is great family entertainment! This Geode Cracker Barrel comes with a total of 180 pounds of Break Open Geodes:  45 lbs of mixed sizes Las Choyas Coconut Geodes and 45 lbs of mixed sizes Chihuahua Trancas Geodes and 90 pounds of mixed sized Moroccan Geodes all 95% Guaranteed Hollow grade. It will work great in any tourist destination shop or museum, gem shop, gem mine or crystal store!  Free shipping to the continental USA!  More than pays for itself once you sell all the geodes!! (*Current geode customers call us for your price without geodes, previous table top customers have discounted up grade options as well!) 
Check out the Video of the Pirate Wheel Geode Cracker in action!
This Bundle includes the following:
1 barrel with a geode cracker assembly 
1 plexiglass protector with "Geode Break Station" Graphics
1 sign "Geode Cracking you pick it and we'll crack it"
1 wooden wheel 
1 - 45 pound lot of mixed sizes of Las Choyas Coconut Geode 95% Hollow grade
1 - 45 pound lot of mixed sizes of Chihuahua Tranca Geode 95% Hollow grade
2 - 45 pound lots of mixed sizes of Moroccan Geode 95% Hollow grade
- Pays for itself once you sell all the Geodes included with the barrel at the suggested retail price! 
- Lifetime support and most parts for all of our regular geode customers!  We will keep you up and running!
- Need specific sizes or different types of geodes? Call us to substitute when you place the order!
30 inches wide x 32 inches deep x 46 inches tall
We suggest selling the Geode's for the following prices per pound retail. 
Las Choyas Coconut Geodes $30 per pound MSRP
Trancas Geodes $22 per pound MSRP
Moroccan Geodes $18 per pound MSRP
 * Note: This cracker is not intended to be used on non guaranteed, semi hollow, mine run or solid geodes. Doing so may cause damage to the tool and parts and may void the warranty.  
Payment & Security
Your payment information is processed securely. We do not store credit card details nor have access to your credit card information.