Roll over image to zoom in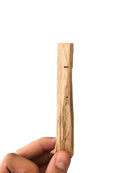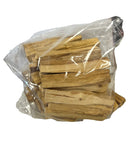 Description
Palo Santo Smudge wood for burning as a natural incense. The size of each stick is about 4-5 inch.  Offered wholesale or in bulk.
Embrace the holy fragrance of the Palo Santo smudge, where the alluring scent of this renowned wood calls for purification and cleansing. Palo Santo smudge sticks from our unique collection, which are ideal for retailers, spiritual practitioners, and people looking to create a peaceful environment, are made from sustainably produced materials. These smudge sticks provide an engaging approach to get in touch with the wonderful energy and antiquated smudging tradition.

Our wholesale Palo Santo smudge sticks are sourced from sustainable processes, ensuring genuine and authentic wood because quality is of the utmost importance to us. Palo Santo, sometimes referred to as "Holy Wood," has been used for ages in customary rites to banish evil spirits and draw in good ones. As you smudge, clear your environment, and strengthen your spiritual connection, take in the alluring perfume.

Increase the quality of your spiritual collection with Palo Santo smudging sticks in bulk. These sacred tools act as a source of inspiration, enabling people to establish a sacred environment and call forth good deeds. Our carefully chosen selection will envelop rituals, ceremonies, and personal activities in a purifying and spiritually uplifting aura. Shop right away and enjoy the sanctity of Palo Santo's aroma, which will add a touch of purification and harmony to your spiritual collection.

Payment & Security
Your payment information is processed securely. We do not store credit card details nor have access to your credit card information.