Roll over image to zoom in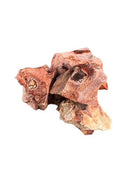 Description
Opal in Matrix Rough Specimens from Mexico. These are beautiful opals with the host rock in the raw offered wholesale in bulk.  Great for selling as opal specimens or for working with lapidary equipment like faceting machines. 
Explore the captivating beauty of wholesale Opal in Matrix raw specimens, where the alluring color play is tastefully preserved in its original form. We hand-selected the rough specimens for our special collection, and each one has opalescent flashes inside the matrix. These specimens provide an enthralling opportunity to engage with the creative wonders of nature and are ideal for lapidary artists, collectors, and retailers.

Quality is very important to us, thus we only buy wholesale Opal in Matrix raw specimens from reliable vendors, assuring that the stones we sell are real and authentic. Opal in Matrix is an alluring blend of opal and the nearby host rock, resulting in a magnificent display of opalescent hues set against a striking matrix backdrop. As you observe the opalescence's inherent creativity being woven into the matrix, take in the entrancing beauty that resides inside each rough piece.

Rough specimens of wholesale Opal in Matrix will enhance your collection. These alluring stones give lapidary artists and designers the inspiration they need to produce one-of-a-kind, creative works. Our carefully chosen collection will exude a sense of wonder and beauty, whether you're looking to broaden your options or provide exceptional specimens to your clients. The fascinating attractiveness of Opal in Matrix can add a touch of nature's artistic brilliance to your collection, so order now and give into its seductive allure.

Payment & Security
Your payment information is processed securely. We do not store credit card details nor have access to your credit card information.