Roll over image to zoom in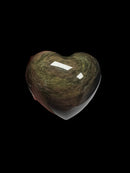 Description
Obsidian Hearts that have been polished are offered in bulk or wholesale for resale. They make great hand specimens and decoration pieces! These are approximately 1.75 - 2.5  inches wide and about .25 to .75 inches thick.  
 Enter the world of wholesale polished Obsidian hearts to experience the powerful force of protection and anchoring. Hand-selected hearts that have been painstakingly created to reveal the fascinating beauty of Obsidian are part of our unique collection. These polished hearts radiate a potent energy that feeds the spirit and are ideal for crystal aficionados, retailers, and energy healers.
 Quality is our top priority at our shop, thus we only purchase wholesale polished Obsidian hearts from reputable vendors that can guarantee that the stones are real. Because it can center you and protect you from harmful energy, obsidian is highly prized. As you join with the earth's strong energies to promote a sense of stability and balance, embrace the protective force that resides inside each heart.

Increase the quality of your spiritual experience with wholesale polished obsidian hearts. These alluring gems are powerful instruments for emotional healing, energy work, and meditation. Our carefully chosen selection will exude a sense of security and grounding whether you use them to decorate your environment or provide them to your clients. Shop right away to embrace the magical power of polished obsidian hearts, which will uplift your spirit and direct you toward inner strength.

Payment & Security
Your payment information is processed securely. We do not store credit card details nor have access to your credit card information.