Roll over image to zoom in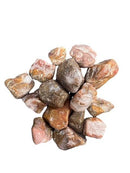 Description
Moss Agate (Agua Nueva) Tumble Polished Stones are available wholesale in bulk. These are nice Moss Agate chunks that have been tumble polished and are ready to sell!
Learn about the fascination of wholesale Moss Agate tumble polished stones, where the beauty of green and brown patterns created by nature are on display. Each stone in our curated selection highlights Moss Agate's distinct charm, having been hand-selected. These polished stones are ideal for crystal collectors, retailers, and energy healers since they give a pleasing combination of earthy colors and a hint of the wondrous.

Our business prioritizes quality, thus we only purchase wholesale Moss Agate tumble polished stones from reliable vendors who can guarantee real and original gemstones. Moss agate is praised for its curative qualities, which foster emotional harmony, development, and a connection to nature. As you connect with the peaceful vibrations of each polished stone, embrace the calming energy it contains. This will help you cultivate a sense of peace and harmony.

Increase your wellbeing by purchasing wholesale tumble-polished Moss Agate stones. These alluring gems are effective grounding, energy healing, and meditation tools. Our carefully chosen assortment will add a sense of healing and natural beauty to your surroundings, whether you choose to decorate with them or sell them to your clients. By purchasing now, you can bring the calming beauty of nature's artwork into your life and enjoy the transformational energy of Moss Agate.

Payment & Security
Your payment information is processed securely. We do not store credit card details nor have access to your credit card information.