Roll over image to zoom in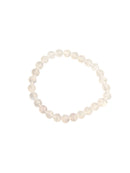 Description
Moonstone 7mm Round Bracelets.  These are elastic crystal gemstone stretch bracelets offer wholesale in bulk.
Learn more about the ethereal beauty of wholesale Moonstone bracelets, which beautifully encapsulate the alluring spirit of the moon. Handcrafted bracelets, each featuring genuine Moonstone gemstones, are part of our exclusive collection. These bracelets provide an enticing method to interact with the magical attraction of Moonstone and are ideal for jewelry businesses, gift shops, and anyone looking for balance and intuition.

Our wholesale Moonstone bracelets are made with attention to detail and genuine gemstones since at our shop, quality is key. Moonstone is prized for its iridescent sheen, which is similar to the reflection of moonlight on water, and is connected to feminine power and intuition. As you connect with each bracelet's relaxing energies and the harmony it fosters, embrace the alluring beauty that resides there.

With wholesale Moonstone bracelets, you may enhance your jewelry collection. Wearers are encouraged to accept their intuition and emotions by these alluring designs, which act as a source of inspiration. Our handcrafted selection will evoke a sense of mystery and a spiritual connection, whether used for personal decoration or as thoughtful gifts. Shop right away and enjoy the appeal of moonstone, which will give your jewelry choices a touch of lunar vitality.

Payment & Security
Your payment information is processed securely. We do not store credit card details nor have access to your credit card information.