Roll over image to zoom in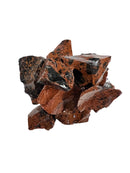 Description
Mecca or Mahogany Obsidian Rough Specimens for sale wholesale in bulk from Mexico! These are great hand specimens. The size range is Small, approximately 1.2" - 1.7" inches or Palm size 1/2 fist to fist size. Order 2 pound lot, 11 pounds or a 33 pound lot.
 With our wholesale Mecca Mahogany Obsidian Rough Specimens, a captivating addition to your crystal collection, you may embrace the classic beauty of the planet Earth. Mecca Mahogany Obsidian is a captivating gemstone that combines the deep black obsidian with the rich mahogany tones, producing a magnificent color interaction. Mecca Mahogany Obsidian Rough Specimens that we provide are of the highest caliber and demonstrate the natural beauty and grounding qualities of this rare stone, making us a dependable source for crystal dealers, collectors, and lapidary aficionados.

Quality is important to us, thus we meticulously pick our wholesale Mecca Mahogany Obsidian Rough Specimens to give them an authentic and enlightening experience. Each unpolished rough specimen showcases Mecca Mahogany Obsidian's natural beauty while showcasing its various patterns and color variations. Mecca Mahogany Obsidian is thought to increase strength and stability, defend against negativity, and support grounding. As you connect with the primal energy and the sense of balance it gives to your surroundings, embrace the earthy qualities of each rough piece.

With our wholesale Mecca Mahogany Obsidian Rough Specimens, you may enhance your collection of crystal. These amazing stones act as a source of motivation, encouraging people to embrace Mecca Mahogany Obsidian's anchoring and protective properties. Our hand-selected collection of rough specimens will impart an air of antiquated elegance and crystal enchantment whether it is sold as a retail item, utilized in lapidary projects, or displayed as natural wonders. Shop right away to experience Mecca Mahogany Obsidian Rough Specimens' attraction, which honors the gemstone's alluring beauty and lengthy heritage.

Payment & Security
Your payment information is processed securely. We do not store credit card details nor have access to your credit card information.