Roll over image to zoom in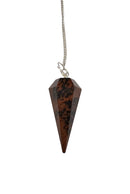 Description
Mecca Mahogany Obsidian Pendulum Approx 1.25 Inch Diameter.  These are silver plated pendants.
With our wholesale Mecca Mahogany Obsidian Pendulums, which are ideal for metaphysical shops, crystal aficionados, and anyone looking for grounding and protection, you may embrace the ages-old mystique of a crystal divination tool. Mecca Mahogany Obsidian is a powerful stone for grounding and spiritual exploration because it combines the energies of both obsidian and hematite, giving it enticing dark brown and reddish tones. We offer Mecca Mahogany Obsidian Pendulums of the highest caliber as a dependable supplier to guarantee their authenticity and real crystal energy. 

Our wholesale Mecca Mahogany Obsidian Pendulums are a fascinating addition to any metaphysical collection since at our shop, quality is of the first importance. Pendulums made of Mecca Mahogany Obsidian are widely used in dowsing, chakra balancing, and protection rituals. They are thought to increase psychic powers, remove harmful energies, and encourage self-awareness. As you connect with each pendulum's ancient vibrations and feel its feeling of grounding in your divination activities, embrace the alluring beauty of each one.

Take advantage of our wholesale Mecca Mahogany Obsidian Pendulums to upgrade your metaphysical collection. These magical divination instruments inspire people to embrace the ages-old energy of Mecca Mahogany Obsidian and act as a source of strength. Our carefully chosen selection will emit a protective and uplifting aura whether it is utilized for self-improvement, as a kind gift, or as a well-liked retail item. Shop today and experience the appeal of Mecca Mahogany Obsidian Pendulums, adding a dash of ages-old knowledge and divination to your spiritual path.

Payment & Security
Your payment information is processed securely. We do not store credit card details nor have access to your credit card information.