Roll over image to zoom in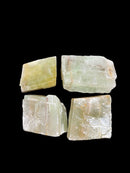 Description
Multicolored Calcite Black Green White is a multi-colored calcite for sale offered Wholesale in Bulk from Mexico. These make great mineral specimens!
Thank you for visiting our wholesale selection of beautiful light green calcite cubes. These magnificent stones fascinate with their calm and energizing color, exuding a sense of harmony and peace. Each cubic crystal was hand-selected for its inherent beauty and symbolizes the harmony found in nature. No matter if you're a crystal collector, retailer, or energy healer, our light green calcite cubes at wholesale prices make the ideal addition to your collection.
Calcite's Calming Energy of Light Green
Quality is our primary priority at our shop; thus, we only purchase our light green calcite cubes in bulk from reliable vendors who can guarantee their potency and authenticity. Light green calcite is valued for its calming effects and is thought to foster good feelings, improve intuition, and heal the heart. As you use these captivating cubes into rituals for healing, meditation, or aesthetic displays, embrace their relaxing influence.
Wholesale light green calcite cubes can add peace and beauty to your collection of crystals. These alluring gems are potent instruments for creating inner peace and a healthy atmosphere. Our carefully chosen assortment may meet all of your needs, whether you're looking for personal development or want to offer distinctive crystals to your consumers. Shop today and discover the wonder of light green calcite cubes as they bring calm and good energy into your life.
Payment & Security
Your payment information is processed securely. We do not store credit card details nor have access to your credit card information.