Roll over image to zoom in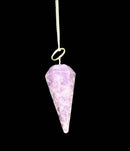 Description
Lepidolite Pendulum Approx 1.25 Inch Diameter.  These are silver plated pendants.
 With our wholesale Lepidolite Pendulums, you may embrace the serenity and equilibrium of a crystal divination instrument, making them ideal for metaphysical shops, crystal aficionados, and anyone looking for emotional therapy. Lepidolite, a prized gemstone recognized for its calming and stabilizing qualities, is distinguished by its natural lithium content and subtle purple colors. We offer premium Lepidolite Pendulums as a dependable supplier to guarantee authenticity and real crystal energy.

Our wholesale Lepidolite Pendulums are a fascinating addition to any metaphysical collection since at our shop, quality is of the first importance. Pendulums made of lepidolite are well-liked instruments for dowsing, meditation, and chakra alignment. They are thought to lessen anxiety, encourage emotional harmony, and strengthen spiritual connection. As you connect with the peaceful vibrations and sense of calm each pendulum gives to your divination techniques, embrace its alluring beauty.

Lepidolite pendulums from our wholesale assortment will enhance your metaphysical collection. These beautiful divination tools inspire people to accept the therapeutic energy of lepidolite and act as a source of strength. Our carefully chosen selection will emit an air of emotional well-being and uplifting energy, whether it is utilized for personal development, as a kind gift, or as a well-liked retail item. Shop right away to experience the fascination of Lepidolite Pendulums, which add a sense of peace and divination to your spiritual path.

Payment & Security
Your payment information is processed securely. We do not store credit card details nor have access to your credit card information.