Roll over image to zoom in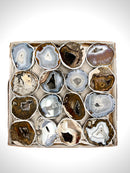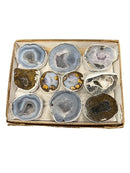 Description
Las Choyas Coconut Polished Geodes in a flat box B+ grade offered in Bulk or Wholesale. This material is from Mexico. The size is about 2.5 to 3.5 inches in diameter.
These geodes are reputed to emanate positive energy and harmonize the environments they beautify in addition to their aesthetic appeal. They are sought-after tools for holistic activities, meditation, and interior design because of their unique energy characteristics. By making our Las Choyas Coconut Polished Geodes in a Flat available through your wholesale network, you give clients a way to bring the natural beauty and uplifting energies of the outdoors into their daily lives.

As a distributor, you're giving your clients a chance to get in touch with the planet's fascinating energies and ancient history. Our wholesale selection of Las Choyas Coconut Polished Geodes in a Flat opens a gateway to both the aesthetic charm and the metaphysical potentials of these priceless objects.
Payment & Security
Your payment information is processed securely. We do not store credit card details nor have access to your credit card information.