Roll over image to zoom in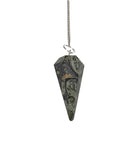 Description
Kabamba Jasper Pendulum Approx 1.25 Inch Diameter.  These are silver plated pendants.
With our wholesale Kabamba Jasper Pendulums, you can embrace the earth's ancient knowledge. They're perfect for metaphysical shops, crystal collectors, and anybody looking to connect with nature and the earth. Kabamba jasper, sometimes referred to as crocodile jasper, is a striking gemstone prized for its vivid green hue and unusual orb-like shapes that evoke lush natural surroundings. We offer premium Kabamba Jasper Pendulums as a dependable supplier to guarantee authenticity and real crystal energy.

Our wholesale Kabamba Jasper Pendulums are a compelling addition to any metaphysical collection since quality is important to us. Pendulums made of kabamba jasper are well-liked instruments for dowsing, chakra balancing, and discovering the secrets of the soil. They are thought to build a strong bond with nature, encourage emotional stability, and improve the flow of life force energy. As you connect with the earthy vibrations of each pendulum and the sense of grounding it provides to your divination techniques, embrace their alluring beauty.

With our wholesale Kabamba Jasper Pendulums, you can enhance your metaphysical collection. These beautiful divination tools encourage people to accept the ages-old knowledge of the land and act as a source of inspiration. Our curated selection will elicit a sense of connection to nature and good vibes whether it is utilized for personal development, as a nice present, or as a well-liked retail item. Now is the time to shop and experience the fascination of Kabamba Jasper Pendulums, which will add a little bit of earth's wisdom and divination to your spiritual journey.

Payment & Security
Your payment information is processed securely. We do not store credit card details nor have access to your credit card information.