Roll over image to zoom in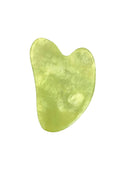 Description
These are Jadeite Guasha or Gua Sha Stones that have been shaped, smoothed and polished. They make great hand specimens and massage stones. These are approximately 2 x 3 inches in size.
 With our wholesale Jadeite Gua Sha, crystal enthusiasts, spa owners, and sellers of beauty and wellness products can embrace the eternal beauty of Nephrite Jade. The treasured gemstone jadeite, a kind of nephrite jade, is well known for its calming and restorative powers. As a dependable provider, we provide premium Jadeite Gua Sha instruments that amplify this precious stone's inherent energy for facial massage and skincare rituals.

Our wholesale Jadeite Gua Sha tools are painstakingly made to offer a luxurious and successful beauty experience because quality is of the utmost importance to us. Each Gua Sha is made to move over the skin smoothly, encouraging lymphatic drainage, minimizing puffiness, and enhancing blood circulation. Jadeite is thought to offer harmony and balance, fostering emotional stability and inner calm. As you connect with the calming energies and sense of renewal it gives to your self-care regimen, embrace the alluring beauty of each Gua Sha.

With our wholesale Jadeite Gua Sha, you may enhance your health and beauty company. These magical instruments inspire people to embrace the inherent healing qualities of nephrite jade and act as a catalyst for change. Our hand-selected collection of Gua Sha tools will envelop you in a sense of serenity and crystal enchantment whether you sell them as a retail item, include them into facial treatments, or include them in your spa's crystal offerings. Shop today to experience the fascination of Jadeite Gua Sha and harness its enduring beauty and energy for a refreshed and glowing complexion.

Payment & Security
Your payment information is processed securely. We do not store credit card details nor have access to your credit card information.