Roll over image to zoom in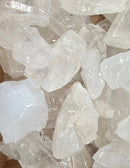 Description
Ice Cube Calcite Crystals come from Mexico and are offered in bulk or wholesale. Calcite is a carbonate mineral with a Mohs hardness of 3. Calcite is a sedimentary related crystal. Choose your size and quantity with options of 2 lbs lot, 11 lbs lot or 33 lbs lot.
 If you sell Ice Cube Calcite Crystals in bulk, you have access to a vast array of decorative options. The elegance of these crystals appeals to craftspeople, interior decorators, and crystal fans alike. Their alluring formations can be employed to enhance interior design, make alluring jewelry, or add a touch of ethereal appeal to environments. You give your consumers the ability to enhance aesthetics with the glory of nature's crystalline beauty by giving these crystals.

Welcome to Ice Cube Calcite Crystals Wholesale, where style meets the attraction of nature. These crystals are treasured by collectors and interior designers for their exquisite forms and translucent brilliance. 
Payment & Security
Your payment information is processed securely. We do not store credit card details nor have access to your credit card information.