Roll over image to zoom in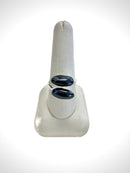 Description
Hematite Silver Plated Adjustable Rings for sale wholesale in bulk. These are silver plated rings.
Our Hematite Silver Plated Adjustable Rings highlight the magnetic appeal of this stone, which is prized for its relaxing energy and metallic shine. Hematite emits a timeless elegance that complements a variety of designs with its silvery-black colour. These rings are simple to wear thanks to the adjustable silver-plated band, which offers a comfortable fit for various finger sizes. These rings are a versatile addition to any jewelry collection and may be used for both informal and formal situations.

You may give your consumers jewelry that goes above and beyond mere aesthetics by showcasing our wholesale Hematite Silver Plated Adjustable Rings. Hematite is linked to stability and grounding, which makes people feel more centered in the moment and energetically balanced. These rings provide as a constant reminder of the value of being grounded despite life's busyness.
Payment & Security
Your payment information is processed securely. We do not store credit card details nor have access to your credit card information.