Roll over image to zoom in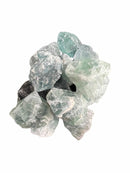 Description
Green Fluorite Rough Specimens for sale wholesale in bulk from Mexico! These are great hand specimens. Order 2.2 pounds, 11 pounds or a 33 pound lot.
Learn about the fascinating world of wholesale Green Fluorite rough specimens, where the striking green hues of nature's radiant beauty are revealed. Each rough stone in our exclusive collection, hand-selected for its ability to showcase Green Fluorite's distinct appeal. These rough examples, ideal for lapidary artists, collectors, and retailers, provide a window into the enthralling mysteries of the natural world.

Quality is very important to us, thus we only buy Green Fluorite rough specimens in bulk from reliable vendors who can guarantee that the stones we sell are real and true. The green colours of green fluorite are highly prized, frequently exhibiting intriguing bands and patterns. As you discover each piece's potential to make a gorgeous cabochon, carving, or display specimen, embrace the entrancing beauty that resides there.

Increase the quality of your masterpieces with Green Fluorite rough specimens in bulk. These alluring stones provide inspiration for lapidary artists and designers, enabling them to create one-of-a-kind pieces that highlight the brilliant hues of nature's gem. Our carefully chosen selection will inspire your creative process, whether you're looking to add to your collection or make statement jewelry. Purchase Green Fluorite today and embrace its attraction, using it into your designs to add to their brilliance.

Payment & Security
Your payment information is processed securely. We do not store credit card details nor have access to your credit card information.