Roll over image to zoom in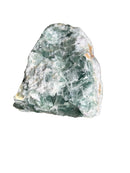 Description
Green Fluorite Crystals come from Mexico and are offered in bulk or wholesale. Fluorite is a colorful translucent calcium fluoride mineral with a Mohs hardness of 4. Fluorite forms in hydrothermal conditions. Choose your size and quantity with options of 2 lbs lot, 11 lbs lot or 33 lbs lot.  This material will sometimes have purple within.  
 Wholesale Green Fluorite Crystals have a flexible beauty that supports a variety of creative endeavors. These crystals bring a touch of nature's grandeur to any endeavor, whether it be creating beautiful jewelry pieces, incorporating them into energy grids, or using them in meditation techniques. They are a popular option for individuals looking to infuse their environments with enthusiasm and vitality because of their vivid green colour, which inspires sentiments of growth and rejuvenation.

As a wholesale supplier of Green Fluorite Crystals, you give your customers the chance to obtain a gemstone that combines aesthetic appeal and spiritual importance. These crystals can be used as treasured additions to crystal collections, stunning accessories, or instruments for introspection. Tell your customers about the potential and beauty of wholesale green fluorite crystals.
Payment & Security
Your payment information is processed securely. We do not store credit card details nor have access to your credit card information.