Roll over image to zoom in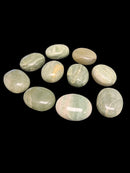 Description
Green Aventurine Palm Stones or pillow stones offered in Bulk or Wholesale. Green Aventurine has been hand shaped and polished into 1.75 - 2.75 inch long and about .75-1.25-inch-thick palm stones or pillow stones. Choose to buy one or a 10 pack.
With the help of our wholesale green aventurine palm stones, enter a world of serene beauty. The tranquility of nature is reflected in these hand-selected jewels' calming green tint. Each palm stone is expertly crafted and delivers a smooth, soothing feeling in the hand. Whether you're a store, a healer who specializes in energy work, or a crystal hobbyist, our wholesale selection is made to suit your requirements.
Green Aventurine's Power
At our shop, we place a high value on authenticity and superior quality. We ensure the natural purity and energy resonance of our green aventurine palm stones by purchasing them from reputable vendors. Green aventurine, also referred to as the "Stone of Opportunity," is thought to promote riches and prosperity while fostering emotional harmony and inner peace. As you incorporate this priceless stone into your meditation, therapeutic routines, or décor, embrace its power. 
Discover the Peace of Green Aventurine
Buy green aventurine palm stones in bulk to bring peace and prosperity into your life. Our magnificent assortment has something for everyone, whether you're looking for personal development or a distinctive addition to your crystal products. Elevate your spiritual path by embracing the calming aura of green aventurine and wearing these beautiful jewels. Discover the wonder of green aventurine palm stones by making a purchase right away.
Payment & Security
Your payment information is processed securely. We do not store credit card details nor have access to your credit card information.