Roll over image to zoom in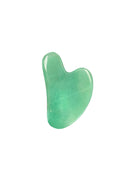 Description
These are Green Aventurine Guasha or Gua Sha Stones that have been shaped, smoothed and polished. They make great hand specimens and massage stones. These are approximately 2 x 3 inches in size.
 With our wholesale Green Aventurine Gua Sha, ideal for spa owners, crystal enthusiasts, and beauty and wellness merchants, embrace the invigorating beauty of abundance. With its vivid green hue and dazzling specks, green aventurine is a powerful gemstone that is said to draw wealth and encourage an optimistic view on life. As a dependable vendor, we provide premium Green Aventurine Gua Sha instruments that utilize the crystal's inherent energy for facial massage and skincare procedures.

Our company places a premium on quality, and our wholesale Green Aventurine Gua Sha tools are carefully made to deliver an opulent and successful cosmetic experience. Each Gua Sha is carefully crafted to fit the contours of the face and neck, enhancing skin texture, encouraging lymphatic drainage, and easing tension. Green aventurine is thought to improve inner harmony, optimism, and good fortune. As you connect with the energizing energy and sense of abundance each Gua Sha offers to your self-care routine, embrace its alluring beauty.

With our wholesale Green Aventurine Gua Sha, expand your beauty and wellness company. These magical instruments inspire people to embrace the inherent healing qualities of this gemstone, giving them the confidence to do so. Our hand-selected collection of Gua Sha tools will impart an atmosphere of prosperity and crystal magic whether they are sold as a retail item, used as a component of facial treatments, or included in your spa's crystal offerings. Shop right away to experience the fascination of Green Aventurine Gua Sha and utilize its revitalizing beauty and energy for a regenerated and renewed complexion.

Payment & Security
Your payment information is processed securely. We do not store credit card details nor have access to your credit card information.