Roll over image to zoom in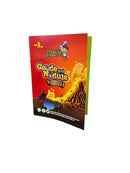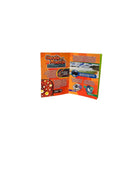 Description
Check out this full color Geode and Nodule guide.  Great to compliment your geode breaking or sawing business. Order the 50 pack for the best pricing option. Size is 4" x 5.5" and 12 pages.
With our wholesale Geode & Nodule Full Color Guide, explore the wonderful world of crystals. It's ideal for crystal collectors, dealers, and enthusiasts looking for thorough and eye-catching references. This book presents a large number of geodes and nodules, each with a fascinating variety of hues, patterns, and unusual structures. We offer superior color guides as a dependable supplier to guarantee accurate depictions of these natural treasures.

Our wholesale Geode and Nodule Full Color Guide is a fascinating addition to any crystal collection since at our shop, quality is of the first importance. A miracle of nature, geodes and nodules display the exquisiteness of crystals produced inside hollow rocks or nodules. This comprehensive reference is a wonderful resource for identifying and appreciating gemstones since it enables you to investigate the numerous varieties, hues, and characteristics of geodes and nodules.

With our Geode and Nodule Full Color Guide, expand your crystal knowledge. This indispensable resource serves as a source of motivation, enabling lovers of crystals to broaden their comprehension of these natural wonders. Our carefully chosen color guide will exude an air of intrigue and enlightenment whether it is used for instructional reasons, as a customer reference guide, or as a priceless addition to your crystal collection. Shop now to add a sense of wonder and discovery to your crystal experience as you explore the fascinating world of geodes and nodules.

Payment & Security
Your payment information is processed securely. We do not store credit card details nor have access to your credit card information.