Roll over image to zoom in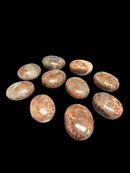 Description
Garnet Palm Stones or pillow stones offered in Bulk or Wholesale. Raw Garnet has been shaped and polished into 1.75 - 2.75 inch long and about .75-1.25-inch-thick palm stones or pillow stones. Choose to buy one or a 10 pack.
Discover the alluring world of bulk garnet palm stones, where the force of nature combines to create exquisite, handcrafted gems. Our special collection, which features shades ranging from deep reds to rich burgundies, highlights the garnet's eternal beauty. Every palm stone is painstakingly created to perfection, offering a gentle touch that fits naturally in your hand.
High Standards at Wholesale Costs
At our shop, we place a strict emphasis on quality. We only purchase wholesale garnet palm stones from reputable vendors to ensure their authenticity and purity. These palm stones provide a sense of anchoring, protection, and renewal and were created to harness the therapeutic benefits of garnet. These stunning stones can be purchased in large quantities thanks to our wholesale prices, making them ideal for crystal enthusiasts, practitioners, and retailers.

Embrace Garnet's Power
As you use these palm stones for meditation, energy healing techniques, or just as lovely ornamental items, learn about the power of garnet. Grab hold of the vitality and classic beauty of wholesale garnet palm stones and use their uplifting energy to advance your spiritual development. Shop right away to enjoy the magic.
Payment & Security
Your payment information is processed securely. We do not store credit card details nor have access to your credit card information.