Roll over image to zoom in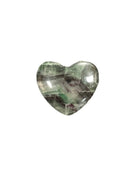 Description
Fluorite Hearts that have been polished are offered in bulk wholesale. They make great hand specimens and decoration pieces! These are approximately 1.75 - 2.5  inches wide and about .25 to .75 inches thick.  
 Enjoy the enchanting realm of wholesale polished Fluorite hearts, where crystal love and peaceful energies converge. Each delicately created heart in our limited edition collection is hand-selected, polished, and made from real Fluorite. These heart-shaped crystals offer a special fusion of aesthetic appeal and metaphysical characteristics, making them ideal for crystal aficionados, retailers, and gift shops.

Quality is very important to us, thus we only buy wholesale Fluorite polished hearts from reputable vendors that can guarantee real, bright stones. Fluorite is recognized for its calming and stabilizing properties, which support emotional harmony and mental clarity. Connect with each heart's peaceful vibrations and healing qualities as you embrace the alluring beauty that resides inside.

Wholesale polished hearts made of fluorite will enhance your crystal collection. These alluring stones act as a source of inspiration, encouraging people to cultivate compassion and self-love. Our carefully chosen selection will add a sense of love and happiness to your surroundings, whether you choose to decorate with them or give them to your clients. Shop right away and enjoy the mellow charm of polished Fluorite hearts, adding a touch of crystal romance to your crystal collection.

Payment & Security
Your payment information is processed securely. We do not store credit card details nor have access to your credit card information.