Roll over image to zoom in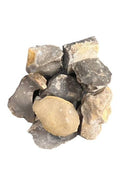 Description
Flint Rough Specimens for sale offered wholesale in bulk! These are great hand specimens. Order 2.2 pounds, 11 pounds or a 33 pound lot.
Immerse yourself in the alluring realm of wholesale Flint rough specimens, where the dramatic tones of grey and black reveal the timeless beauty of Earth's past. Our special selection includes hand-selected rough stones, each reflecting Flint's distinct charm and raw allure. These unpolished specimens are ideal for lapidary artists, collectors, and merchants and provide a window into historical geological marvels.

Our company places a premium on quality, thus we only purchase wholesale Flint raw specimens from reliable vendors that can guarantee the stones are real. Chert, commonly known as flint, has a long history that dates back millions of years. As you realize each raw piece's potential to become a beautiful cabochon, carving, or showcase specimen, embrace the entrancing beauty that resides there.

Utilize wholesale Flint rough specimens to improve your designs. These alluring stones provide inspiration for lapidary artists and designers, enabling them to create one-of-a-kind sculptures that honor the Earth's geological grandeur. Our curated selection will inspire your creative process, whether you're looking to build your collection or design statement items. By purchasing Flint rough today, you can bring the ages-old beauty of this magnificent gemstone into your works.

Payment & Security
Your payment information is processed securely. We do not store credit card details nor have access to your credit card information.