Roll over image to zoom in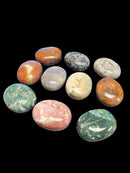 Description
Fancy Jasper Palm Stones or pillow stones offered in Bulk or Wholesale.  Fancy Jasper has been hand shaped and polished into 1.75 - 2.75 inch long and about .75-1.25 inch thick palm stones or pillow stones. Choose to buy one or a 10 pack.
 With our wholesale Fancy Jasper Palm Stones, you may embrace the natural beauty of Earth's artistic creation. These stones are ideal for crystal enthusiasts, metaphysical shops, and people looking for peace and grounding. With its rich and varied shades of greens, browns, and reds, fancy jasper is a potent gemstone renowned for its link to the energies of the Earth and its capacity to promote peace and balance. We offer premium Fancy Jasper Palm Stones as a dependable supplier to guarantee authenticity and real crystal energy.

Our wholesale Fancy Jasper Palm Stones are a fascinating addition to any metaphysical collection because quality is very important to us. Each palm stone is chosen by hand to highlight the distinctive patterns and hues that Fancy Jasper is famous for. Popular aids for grounding exercises, stress alleviation, and meditation include fancy Jasper palm stones. They are thought to foster calm, a sense of security, and a closer bond with nature. As you tune into each palm stone's soothing vibrations and the sensation of tranquility it imparts to your therapeutic activities, embrace its alluring beauty.

Take advantage of our wholesale Fancy Jasper Palm Stones to upgrade your metaphysical collection. These beautiful stones act as a source of motivation, encouraging people to appreciate Fancy Jasper's healing properties and natural beauty. Our carefully chosen selection will emanate a sense of harmony and good vibes whether it is utilized for personal development, as a kind present, or as a well-liked retail item. Shop right away to experience the fascination of Fancy Jasper Palm Stones, which will add a little bit of Earth's craftsmanship and divination to your spiritual path.

Payment & Security
Your payment information is processed securely. We do not store credit card details nor have access to your credit card information.