Roll over image to zoom in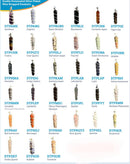 Description
Double Terminated Silver Plated Wire Wrapped Pendants 1-2 Inch Diameter. These are polished double terminated crystals that have been wrapped into a pendant with silver plated wire. offered in bulk wholesale.  These are ready to sell.  Choose from the materials listed below.
Learn about the fascination of wholesale wire wrapped pendants with double terminated silver plating, where style and energy balancing power meet. Featuring handcrafted pendants that have been painstakingly wire-wrapped with silver-plated wire and embellished with double-terminated crystals, our exclusive collection is available only to our customers. These pendants offer a seamless fusion of fashion and metaphysical qualities, making them ideal for jewelry stores, crystal enthusiasts, and energy healers.

Quality is very important to us, thus our wholesale pendants are expertly made with real double-terminated crystals and premium silver-plated wire. Double-terminated stones have the rare capacity to conduct energy in both directions, which makes them effective tools for achieving spiritual alignment and energy balancing. In order to promote balance and harmony in the mind, body, and spirit, connect with each pendant's diverse vibrations and embrace the magical energy contained therein.

Wholesale double terminated silver plated wire wrapped pendants will enhance your jewelry collection. These wonderful items give wearers the advantages of crystal energy in addition to adding a touch of elegance to any ensemble. Our handcrafted collection will exude an air of sophistication and spiritual connection, whether used for personal decoration or as meaningful presents. Shop right away and succumb to the temptation of wholesale pendants, offering your clients a lovely means of energy balancing and crystal embracing.

Payment & Security
Your payment information is processed securely. We do not store credit card details nor have access to your credit card information.